Travel Movement. Explore White Sands National Monument New Mexico, U.S.A.
Go. Gypset Travel. Sand Dunes Without A Beach, Gypsum From an Ancient Sea. Behold a Geological Wonder. White Sands is an Amazing Surreal Experience. Take time to learn about the science and evolution of the dunes at the visitor center before you drive through the scenic pass.
Drive the pass: Experience this natural wonder of the world, drive through the Dune pass, touch the softest sand you will ever feel, climb the dunes, ride a saucer sled down the dunes. Take a hike on the boardwalk or on the trails. Pack a lunch, picnic areas and restrooms are available. *(Note: Stay hydrated. Pack extra water, Water is not available on the scenic drive).
Where: The Southwest U.S.A., White Sands part of the Tularosa Basin located on Hwy 70 Between Las Cruces and Alamogordo
Getting There: GPS Coordinates: 32° 46' 45" North, 106° 10' 19" West
What does the park offer besides seemingly endless soft white gypsum sand dunes? The Visitor Center, built in the 1930's. The Architecture, Adobe, Pueblo Revival style. 
White Sands Photo Travel Journal: Photography Diana Serafini of Gypsy Living Traveling In Style Lifestyle blog serafiniamelia.me
Visitor Center: Gift Shop, Video Presentation, and Visual Displays
Map:  https://www.nps.gov/whsa/planyourvisit/upload/area_map_with_blackband-2.pdf
Before You Go, Check their website for complete information: 
Website: https://www.nps.gov/whsa/index.htm
General Information: According to their website, Dune Drive is open at 7:00 am daily except when the park is closed: For Entrance (fees apply) Open Daily, except December 25, Christmas.*( Note:  According to the brochure White Sands Missile Range surrounds the monument, during missile testing, which averages twice a week the monument and US 70  between the monument and Las Cruces may be closed).
*(Notice: Southwest Environmental Warning: Arid Desert Environment, dry heat. Danger: Summer Heat, Check for Excessive Heat Advisories. The Temperature may be in excess of 100 degrees).
Scenic Dune Drive: Boardwalk. Hiking Trails. Picnic Area. Restrooms.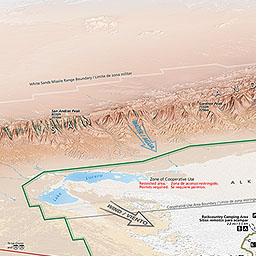 Go There. Make the Journey. Nature's Classroom: After you go and do take time to learn more about this national treasure. The history & science of the park are simply amazing. This is a park that I was amazed by, the sand is like non I have ever seen, tactical therapy. White Sands is like another world, a surreal world that Art meets Science. 
Visual & Color Therapy: ( Visual Experience) The colors were so Soft and Light; the sky met the sand in an effortless manor. Colors: The sky was pale blue. The sand dunes where a soft white. Landscape: My experience was visually stunning, breathtaking. Take Me There: See. Gypsum Sand Dunes, a rugged landscape adorned with strange plant and animal life. Each color and texture amazed me. I wanted to capture the essence of the parks beauty. 
Photography (Shutter Bug): Take many pictures. Captured moments, pictures are a lasting treasure you can cherish, leave the park as you found it. *( Note: Collecting artifacts, such as sand, is strictly prohibited)
Changing Environment: Time of Day and the seasonal changes make this park a photographers dream. This park is the most beautiful park I have ever seen. I want to revisit this natural wonder again and again. Travel Movement: Journey far and wide learn, explore and experience our National Parks and Monuments. 
Story and Photography by Diana Serafini of Gypsy Living Traveling In Style, Serafini Amelia serafiniamelia.me
Go To. Website: https://www.nps.gov/whsa/index.htm